There are a lot of eco-friendly, organic, local, vegetarian and vegan places to eat at in New York. During my recent five day stay in Manhattan I visited a few of them and love to share my tips with you.

Pure Food and Wine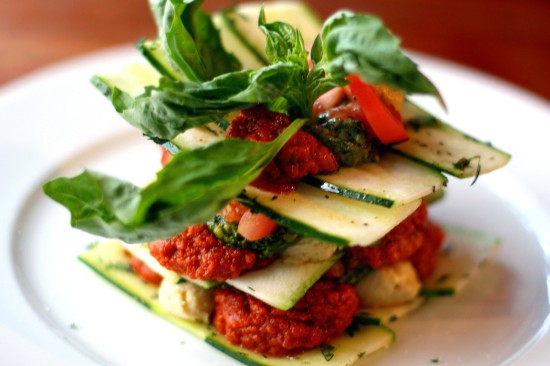 Pure Food and Wine is the top raw food vegan restaurant in Gramercy. They serve really inventive cuisine like a zucchini and heirloom tomato lasagna. The food is unquestionably fantastic, especially the desserts. The menu changes often, which keeps things interesting. My guess is that on a beautiful summer night, the gorgeous garden in the back has to be one of the best spots in the city.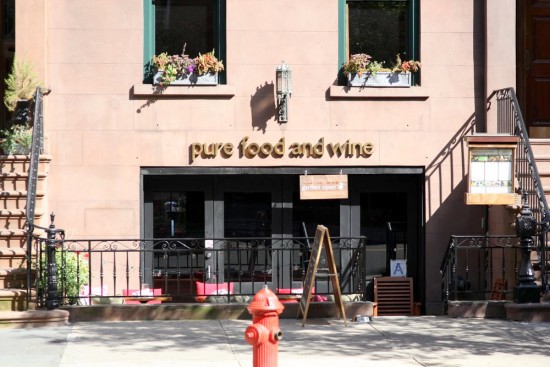 oneluckyduck.com/pages/pure-food-and-wine
Forty carrots on the 7th at Bloomingdale's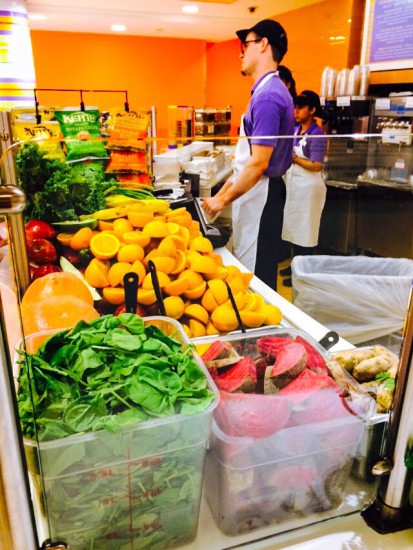 At the famous shopping centre Bloomingdales on the Upper West Side you can literally shop till you drop. But never on an empty stomach! I had lunch at 40 Carrots on the 7th floor. You should really try their famous frozen yogurt. What a treat! On the 1st floor you find Magnolia Bakery (founded in 1966), with their handmade, preservative- and trans fat free, cupcakes, cookies, cakes and pies. It's perfect if you just want a coffee or a sweet treat to keep you fuelled while you shop.
People's Pops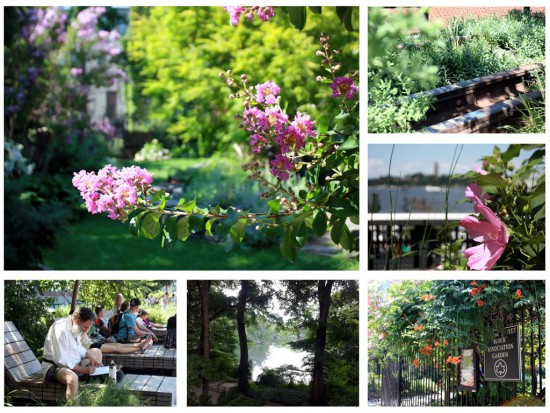 In the crowded city with its famous Manhattan highrise you also find a lot of green spots like the famous Central Park and the new High Line. The latter is a park laid out on an old elevated freight rail line above the streets on Manhattan's West Side. It was designed by Dutch landscape architect Piet Oudolf and developed sustainably. It is still maintained with the same philosophy. When you take a walk through the beautiful green High Line don't miss out on People's Pops. They serve lovely organic ice cream and shaved ice made with fruit. So nice on an warm summer's day!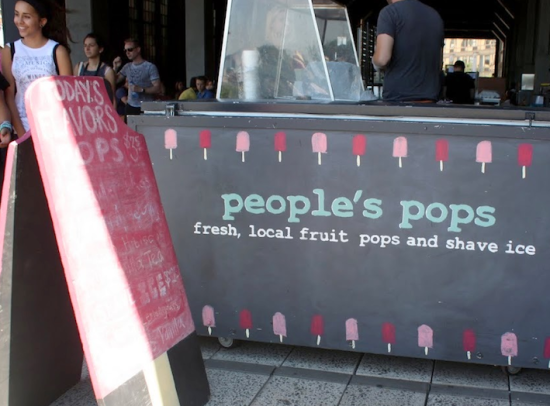 Gansevoort Market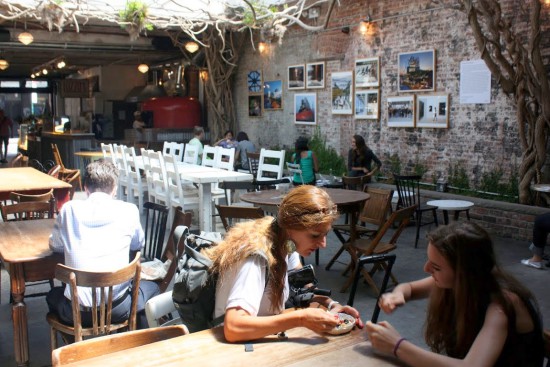 Gansevoort Market is a food hall, with an industrial feel, located in the Meatpacking district. The market, that opened in October 2014, houses 25 local vendors like New York based Heermance Farm. They sell fresh, organicly grown vegetables, and eggs from free-range chickens.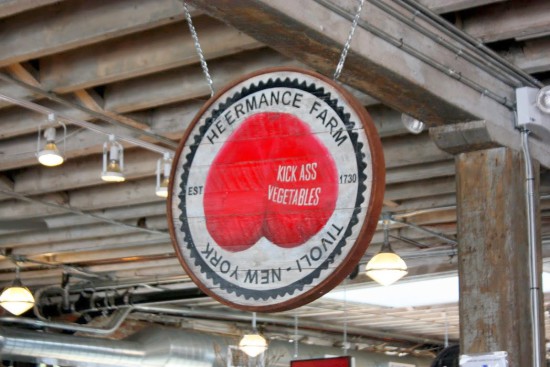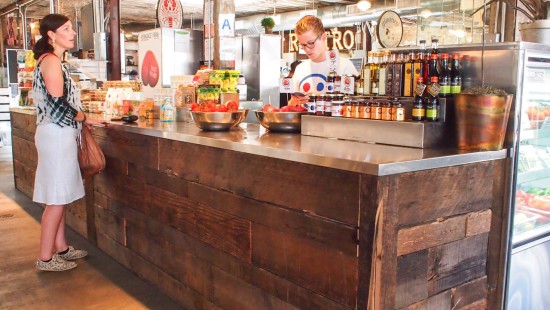 Or Palenque with their homemade food. Most of their food, including the traditional and the non-traditional arepas from Columbia, is prepared from the finest eco-friendly organic ingredients and made with love.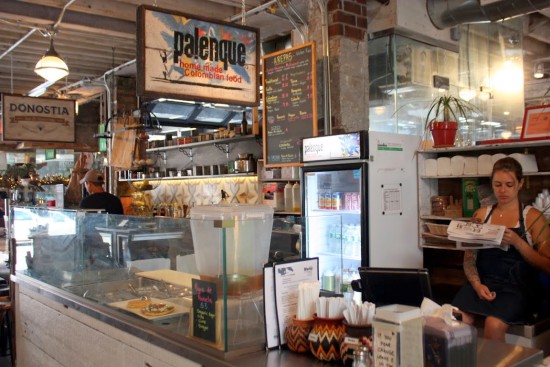 You can als buy Løv Organic Teas.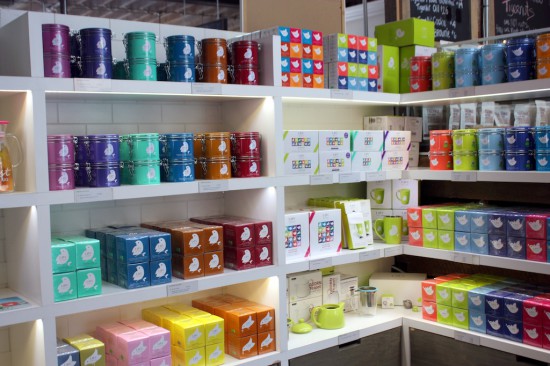 Macelleria Steakhouse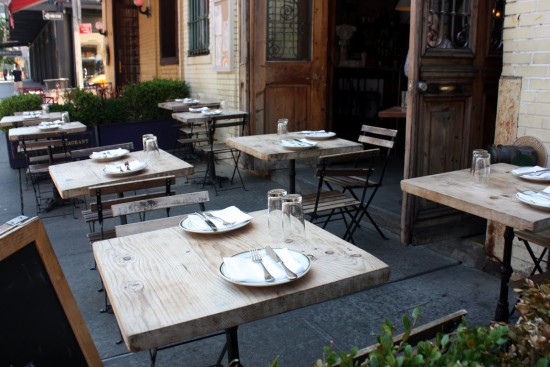 Macelleria is an Italian steakhouse located in the heart of the Meatpacking District. Macelleria means butcher shop in Italian. Known for its award winning, authentic Italian menu, which changes seasonally. Its name defines the Northern Italian cuisine it serves and their philosophy of only using the finest meats, handmade pastas, and freshest ingredients. They serve meat from local purveyors like Heermance Farm. Best is to sit outside on the lovely terrace.