Quartier Latin in Marche-en-Famenne is a 4**** hotel, restaurant and spa. It presents a perfect combination to relax in the Belgian Ardennes at the end a hectic December month. Make a reservation for a massage during the day and if you stay in the hotel you just walk there in your bath robe. Some of the products they use are organic, we were pampered with a bio lavender oil massage and a facial treatment which contained only natural organic products.
Enjoy a delicious dinner in the restaurant and stay the night to not miss out on the breakfast buffet. Especially the unique and tasty coffee pie. Yummie!
Chef de cuisine, Arnaud prefers ingredients of local and regional origin. Hand picked wild mushrooms, meat from young regional farmers and free range chickens. Some of the cheeses he serves are organic, but you can be sure that they are all Belgian.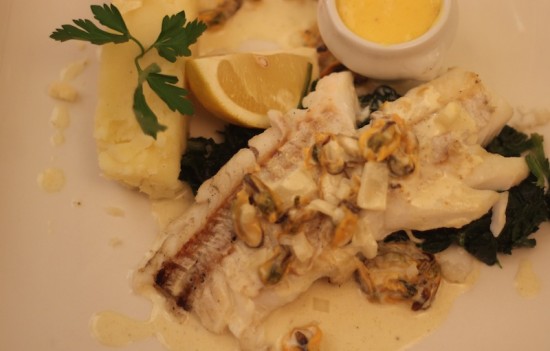 All fish is sustainable, like this tasty haddock, served with mussels, spinach and mousseline.