We start our wine and foodie tour in Alentejo with a visit to the estate and winery at Herdade de Malhadinha Nova in Albernoa. Next to the lovely accommodations there is a fine dining restaurant where you can enjoy lunch and dinner. A glass wall in the restaurant gives you the feeling you are sitting in the garden, and presents you with a great view of the plants and peacocks.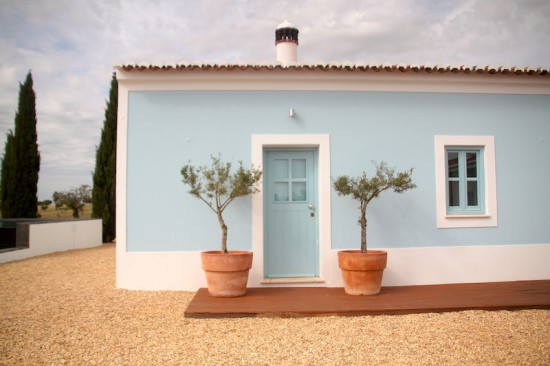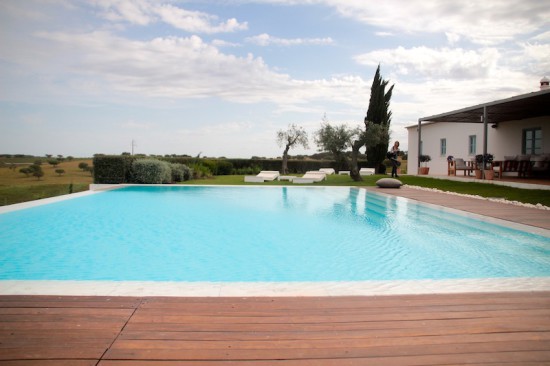 The winery at Herdade de Malhadinha Nova is experimenting with the production of a red wine made of organic grapes. It's something for the future and a responsibility towards the next generations.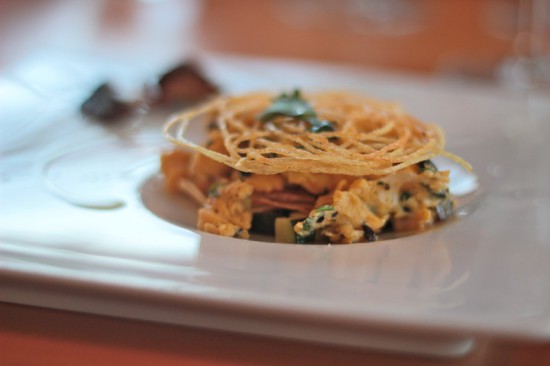 Beautiful cows, bulls, horses, and other animals have a home at the farm.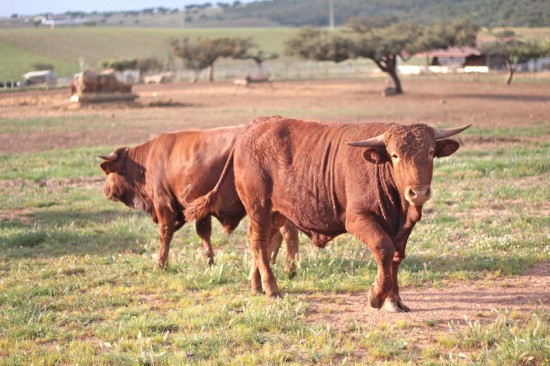 Vila Galé Clube de Campo in Albernoa
During the night we stayed at Vila Galé Clube de Campo in Albernoa. It's a popular stay for families, especially during school holidays. Popular (group) activities include balooning, jeep safari, quads, biking, canoeing, and horse riding.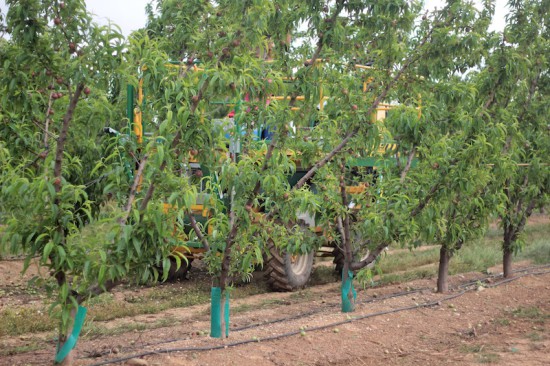 At Vila Galé Clube they grow olives, pears, peaches, red plums and grapes, and they produce wine. Guests are invited to join in feeding the animals. They have donkeys, goats, sheep, lamas and horses.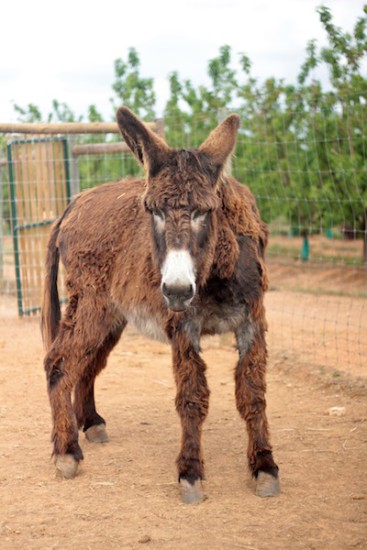 During the wine tour we learn that Portugal has the highest density of wine producers in the world. This is because of the relatively small size of the country compared to other wine producing countries like France, Spain, South Africa, Australia and Argentina.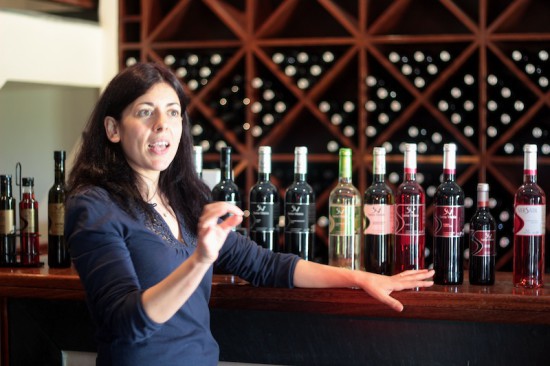 Temperatures can rise to 45 – 48 degrees celsius during summer. Last year the first day of the sauvignon blanc harvest was on the 31st of July. That's much earlier than in the Portuguese Douro and Dão wine regions. Pesticides are used at this winery. They say that this is because of the scale of their production.
Herdade dos Grous in Albernoa
On arrival at Herdade dos Grous in Albernoa you are greeted by the colourful scene of the multi coloured cushions and the beautiful flowers on the terrace in front of the estate.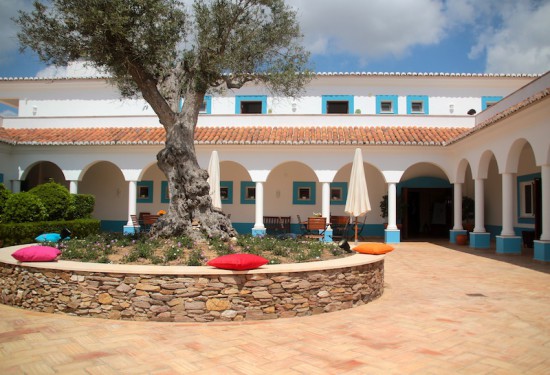 At the moment they are experimenting with four organic red wines, but they are still several years away before they have the right one.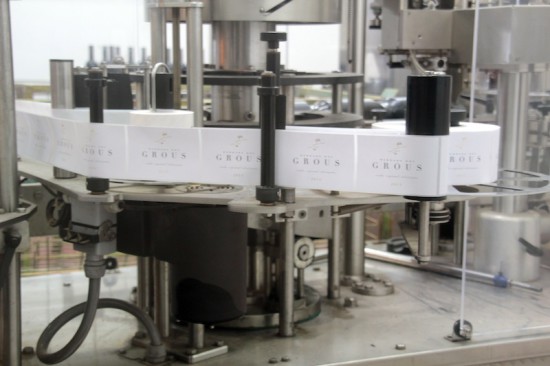 Vegetables and fruit (oranges, figs, pears and apples) are organically grown in the garden and used in the restaurant kitchen. We enjoyed a tasty wine and food pairing for lunch, served by the friendly and dedicated staff.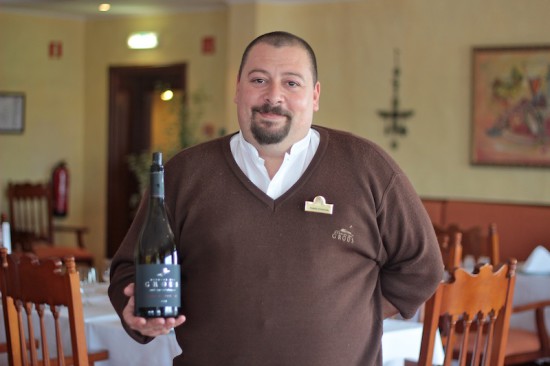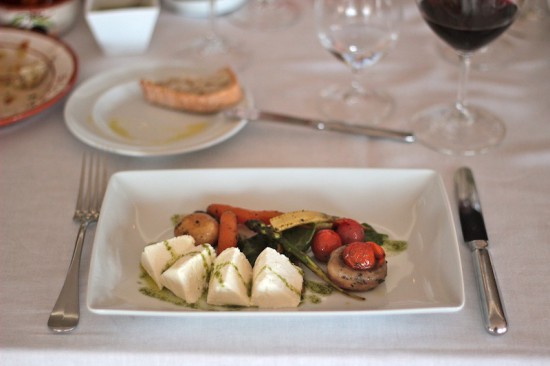 The wine shop at Herdade dos Grous sells wine in all sizes. On the picture are bottles of 5, 12, and 18! litres. Too big and heavy for my suitcase, unfortunately ; )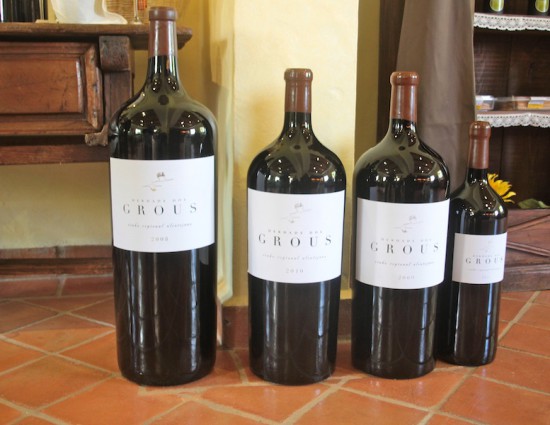 Herdade do Sobroso in Pedrógão
At Herdade do Sobroso (Sobroso means cork tree) in Pedrógão we start our visit with a jeep safari exploring the estate and its amazing views.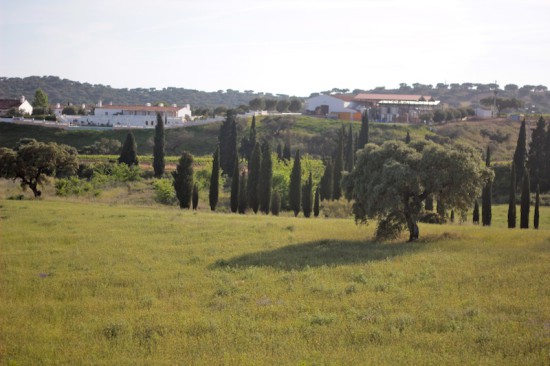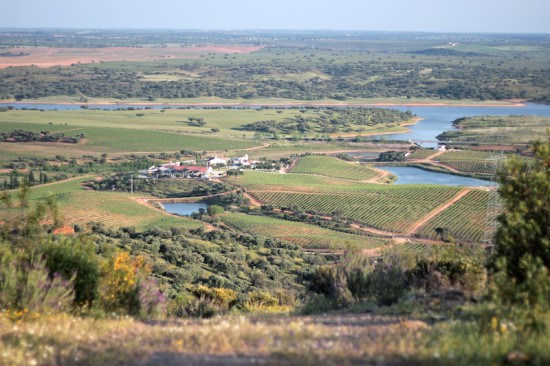 Guests are invited on a tour to enjoy the spring flower filled surroundings and to do some wildlife spotting: we saw wild boars (too fast for the camera), deer, sheep and ducks.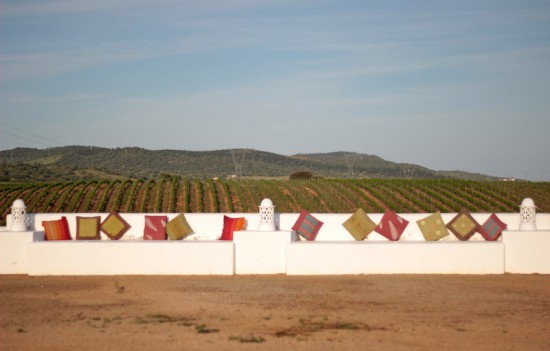 A beautiful place for enjoying a wine tasting, but definitely don't forget their homemade jams and olive oil.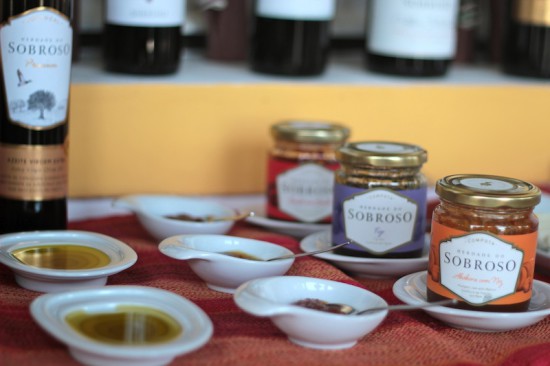 Visit to Beja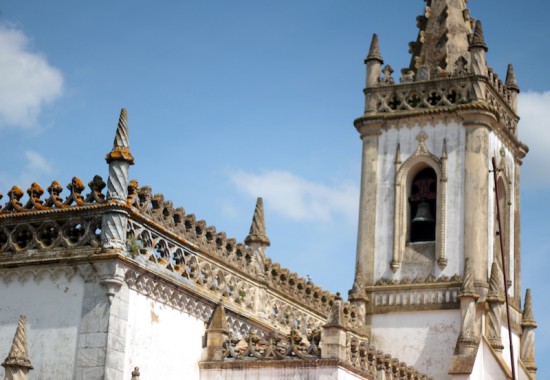 After lunch we visited Beja, a city in the Alentejo region, famous for being conquered by several Christian kings, becoming an independent Muslim-ruled principality, and its university and buildings that have stood the test of time.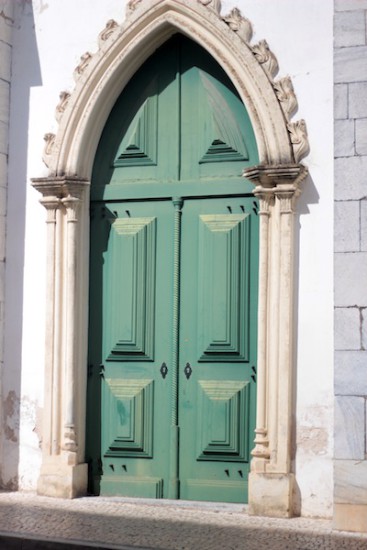 The Portuguese have a real sweet tooth. Enjoy the local delicacies which often have eggs and sugar as their main ingredients.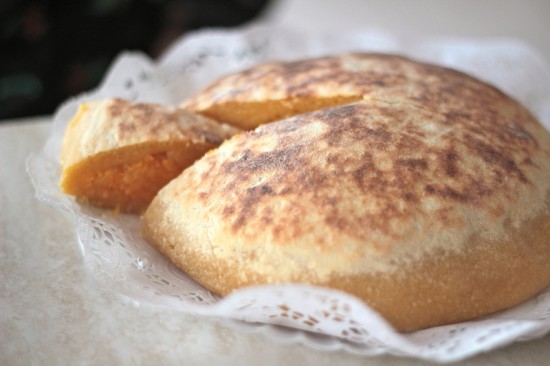 Hotel Rural Horta da Moura in Monsaraz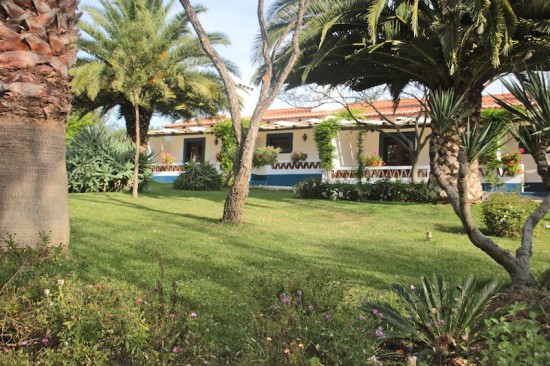 Hotel Rural Horta da Moura in Monsaraz has beautiful spacious rooms and wonderful beds.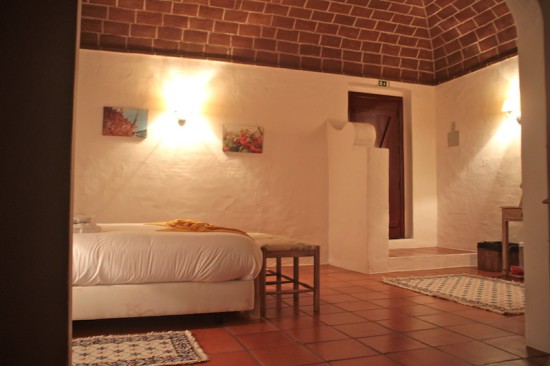 The hotel is home to the second oldest olive tree in Portugal. It is 2,450 years old (!) The oldest tree grows near Lisbon.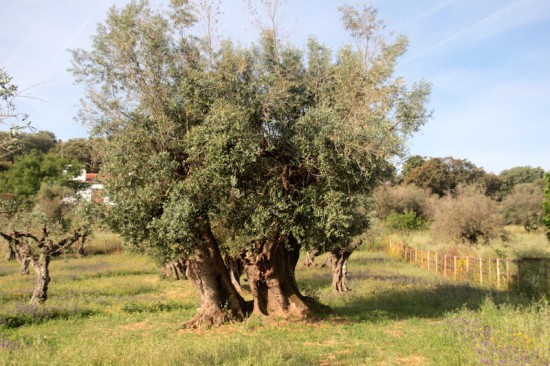 Visit to Évora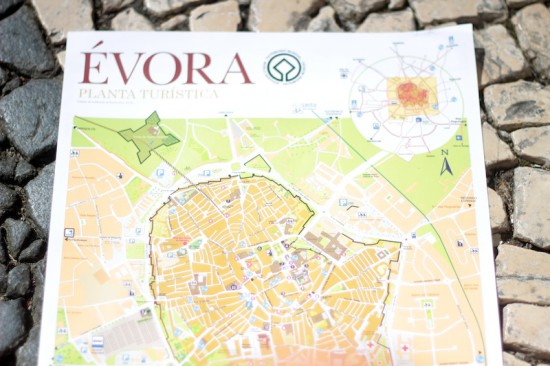 Évora is the capital of the Alentejo region, a friendly city with lovely old streets, monuments and terraces.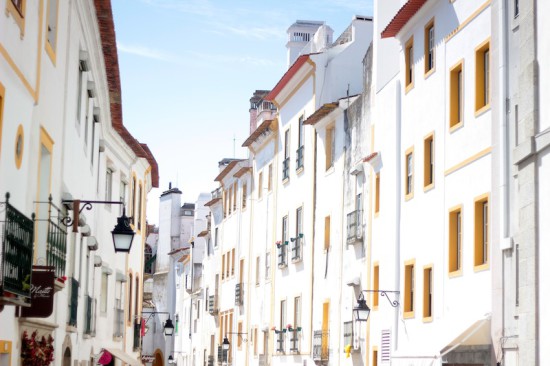 Due to its well-preserved old town centre, still partially enclosed by medieval walls, and a Roman Temple, Évora is a UNESCO World Heritage.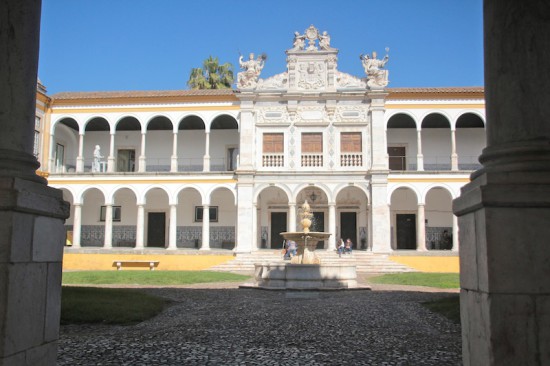 Vegetarian restaurant Salsa Verde in Évora
While exploring Évora we stumbled upon Salsa Verde, a lovely decorated vegetarian restaurant.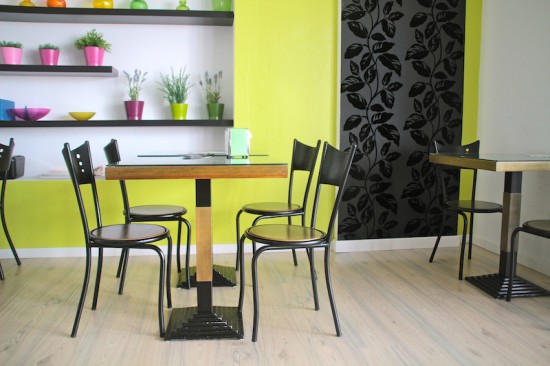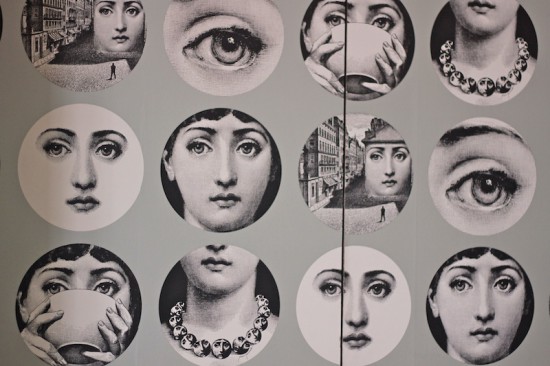 It serves healthy food for the growing number of people that fancy veggie and vegan food. They have self service and take away.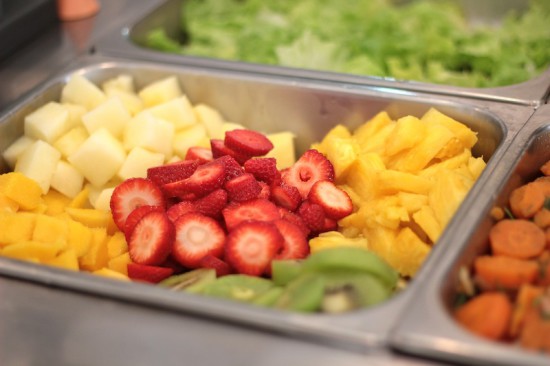 Restaurant Dom Joaquim in Évora
Lunch at the traditional restaurant of Dom Joaquim in Évora. This is the delicious 'grand dessert'.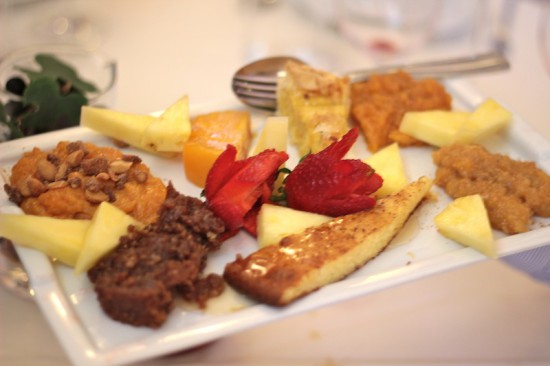 Monte da Ravasqeira in Arraialos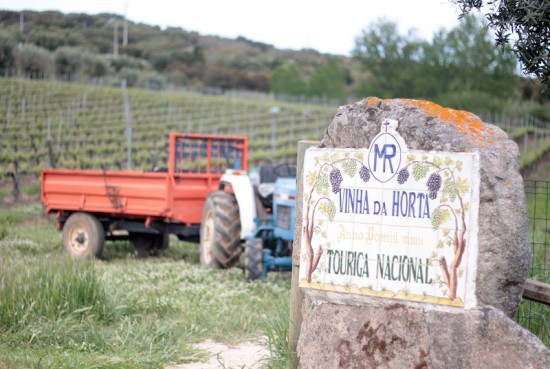 At Monte da Ravasqueira they use infrared photos to analyse the grapes and their acidity. The grapes are selected before they are pressed to guarantee the desired flavours.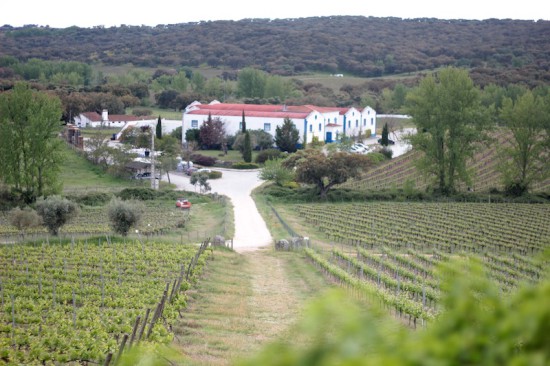 They use several different methods of fermentation, that's how they can produce lots of different tasting wines at this wine farm.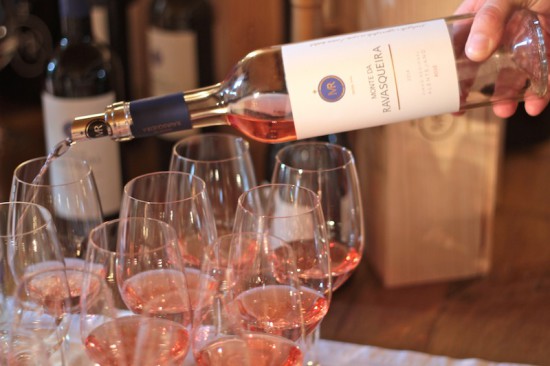 Jéronimos 8 in Lisbon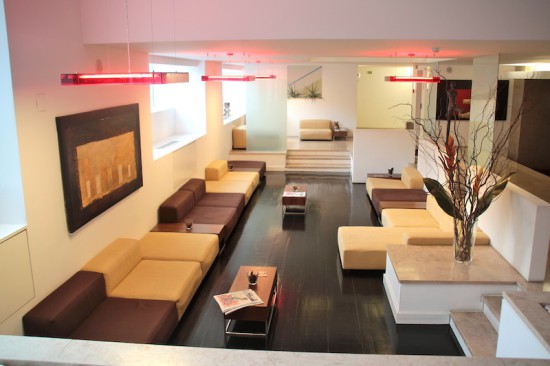 Back in Lisbon we stayed at Jéronimos 8, close to Torre de Belém. Before leaving Portugal we enjoyed our favourite delicacy for one last time: the original Pastéis de Belém.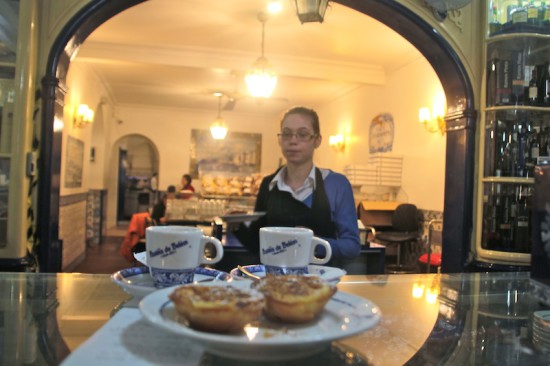 All pictures of the wine and foodie tour in Alentejo & 24 hours in Lisbon >>
More Portugal? > Lisbon, Center of Portugal and Madeira.