In love with Ibiza! After only a few months (my last visit was in June) I returned to the magical island to explore amazing agroturismo's and rural hotels. And I went back to this special spot…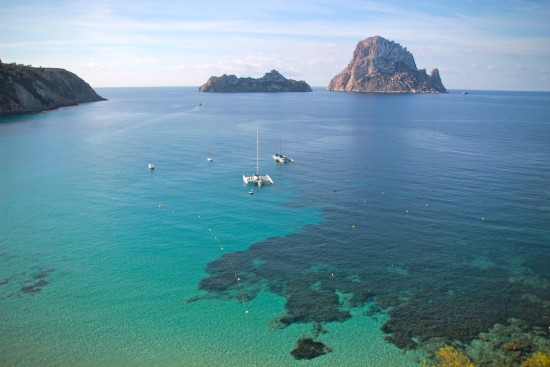 Can Pardal in San Miquel
Margarita and Antonia are both sisters, and the friendly owners of the cozy, rural hotel Can Pardal in San Miquel. This boutique hotel in the beautiful and tranquil north of Ibiza has only 5 bedrooms.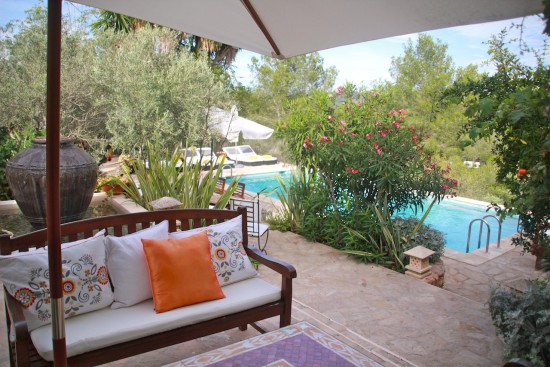 Each room is stylishly decorated with its own unique character.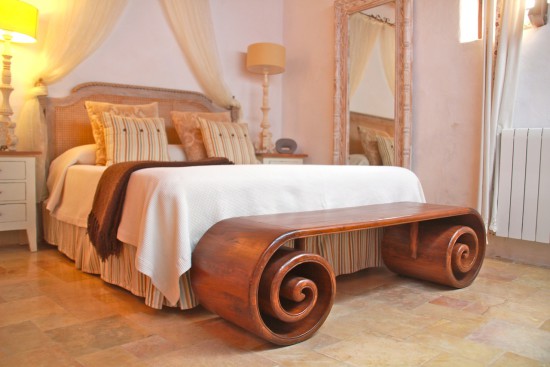 Breakfast is not a buffet, but a breakfast especially prepared for you. Most of the scrumptious food is local.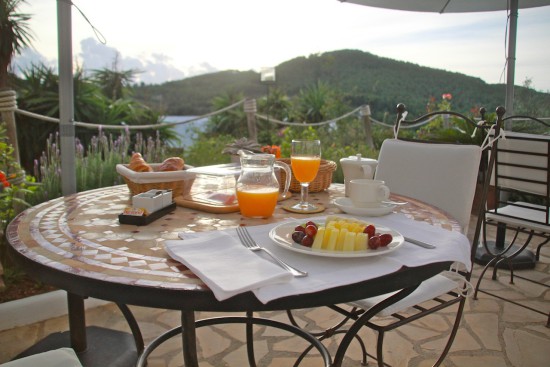 It's only a 10-minute drive from San Miquel to Cala Benirras, where the hippies still gather on the beach at sunset to make music.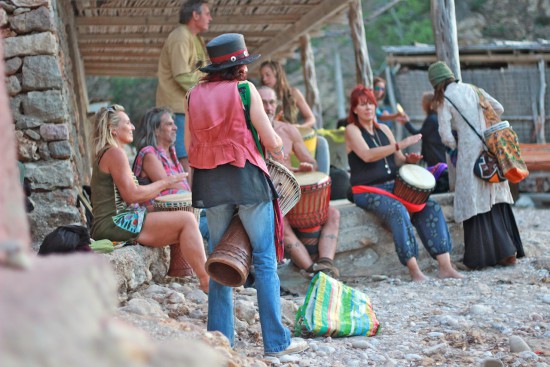 Visit the lovely beaches in the north, just west from Portinatx. My favourites are Platja s'Illot (where I did a photo shoot for Ibiza Retreats last June) and Cala Xucla. If you're lucky you'll have the whole beach to yourself and some birds.
Restaurant Can Cires in Sant Mateu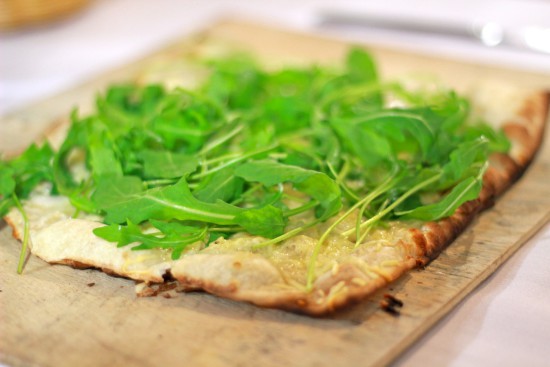 If you want to enjoy a delicious Ibicencan lunch or dinner I recommend you visit restaurant Can Cires. Do you prefer to eat veggie? Don't worry, the chef will prepare a delicious vegetarian menu Ibiza style with lots of fresh and healthy vegetables. The restaurant also has a beautiful terrace out in the garden. You'll enjoy the company of their 2 amazing cats : )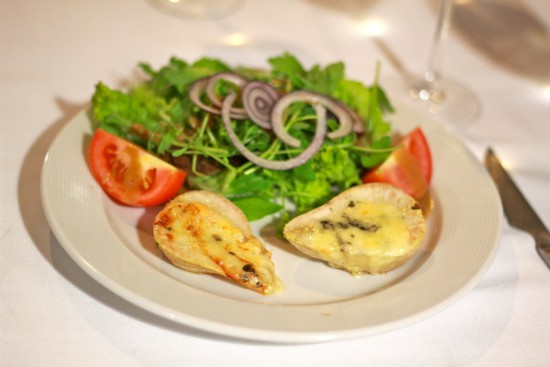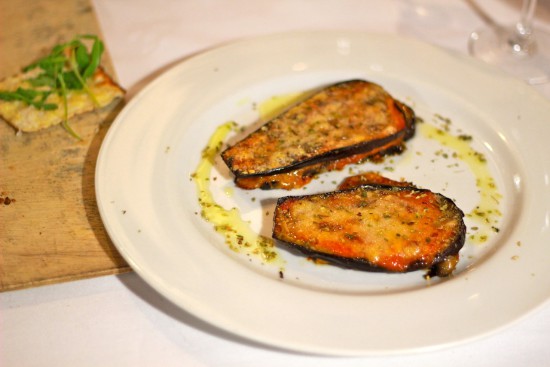 Can Lluc Boutique Country Hotel & Villas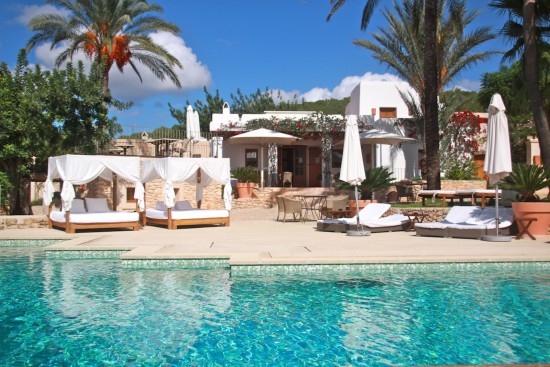 Can Lluc was one of my favourite luxury hotspots during the last Ibiza trip. Lucas, the friendly owner, invited me for a delicious lunch and of course I said yes!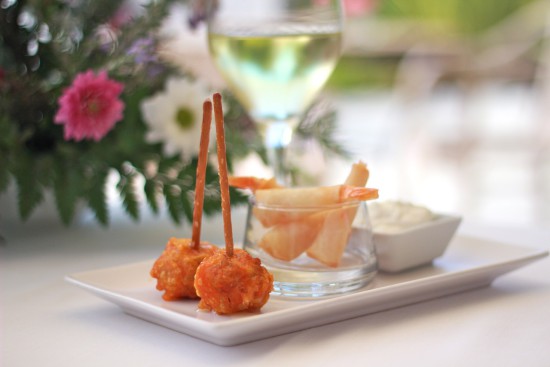 A great thing is that the host remembered that I prefer to eat vegetarian and pescatarian. I was spoilt with the beautifully presented dishes.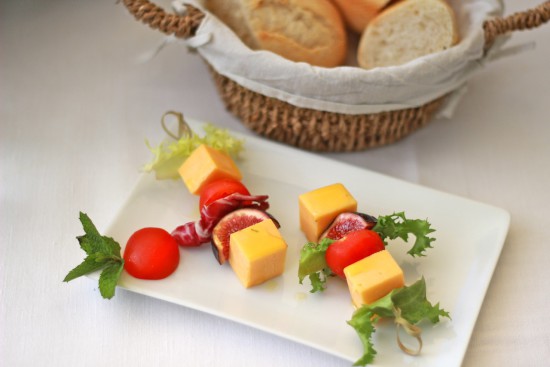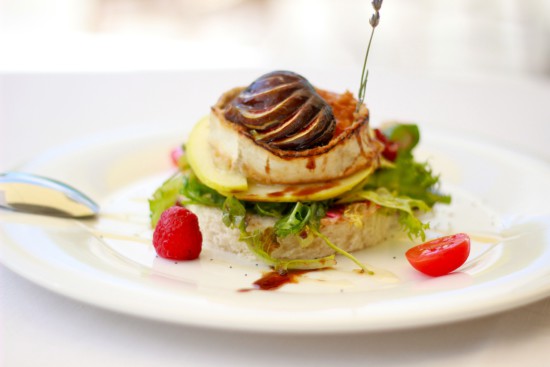 Can Lluc is also open during the winter season and is a great place for a team building course or yoga retreat.
Sa Talaia agroturismo near San Antoni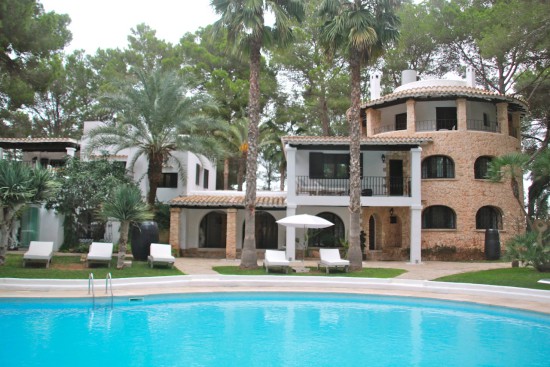 Sa Talaia is an agroturismo with an earthy, calm atmosphere. It's part of the Palladium group. A hotel group that owns several hotels in Ibiza, like the Hard Rock Hotel. Sa Talaia, with its lush surrounding gardens, is a totally different concept.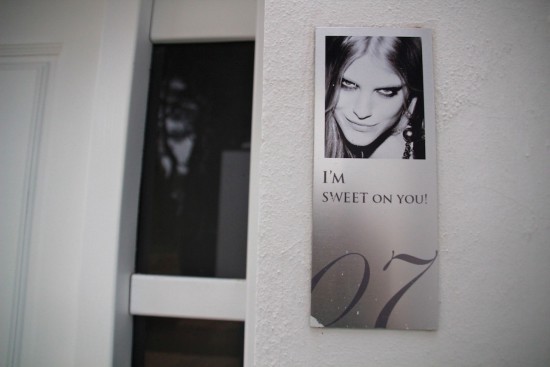 Each room has its own individual flair and name. I was fortunate enough to stay in Carmen, the junior suite.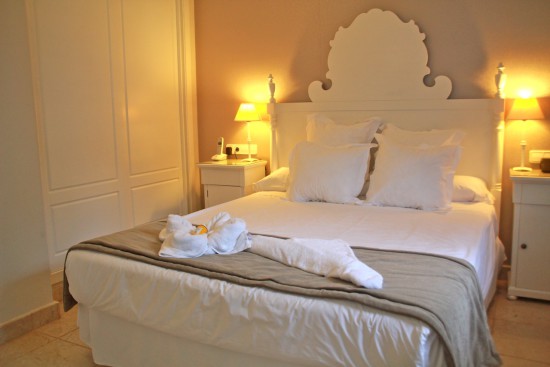 It has a wonderful bath with hydro massage (the outside jacuzzi at the swimming pool is even better), carefully selected decorations in silver tones, and designer furniture.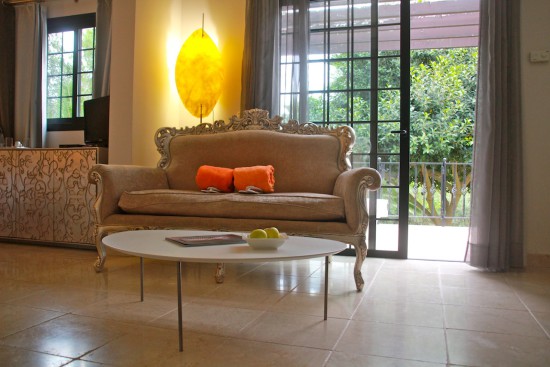 Adventures to undertake from here: I drove to the magical Cala d'Hort and Es Vedra.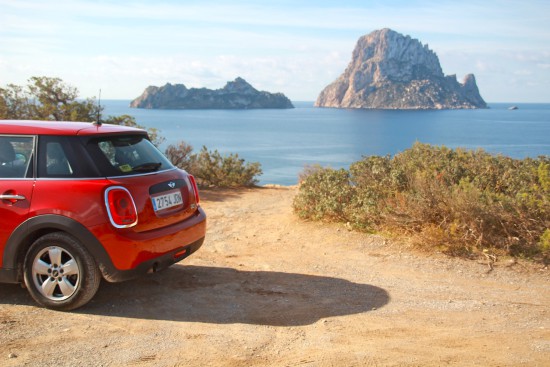 Or go sightseeing, shopping, and have a drink at S'escalinata in Ibiza Town. 'Don't panic it's organic' is a lovely juice & salad bar not to be missed either!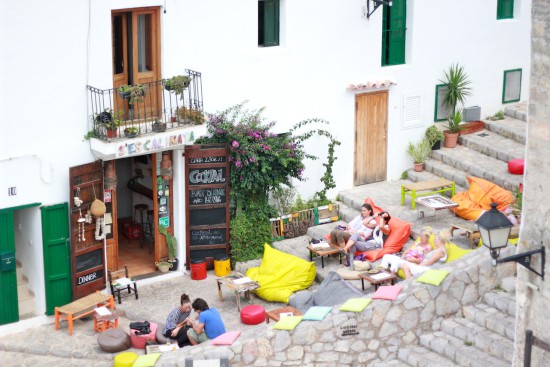 Can Guillem in Santa Gertrudis

Can Guillem is a traditional Ibicencan finca in the middle of the Ibiza countryside between Eivissa and Santa Gertrudis. This agroturismo has 7 rooms, one suite and six doubles, 2 bungalows, and 2 villas. Although I travel alone I was offered the villa Ca na Pepa for my stay. The villa has 2 bedrooms, a living room, kitchenette, a spacious bathroom, and a private garden with fruit trees and a jacuzzi.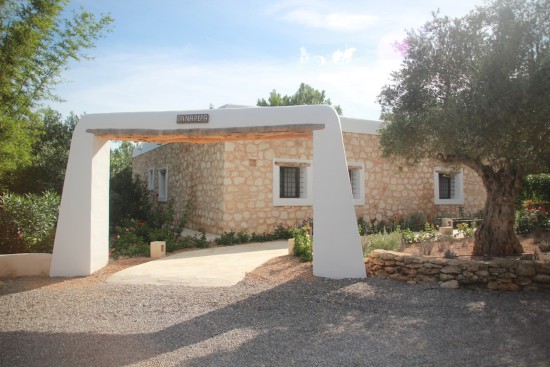 The service is excellent, especially by Juan, who is a wonderful host and a terrific gardner. Pretty in pink!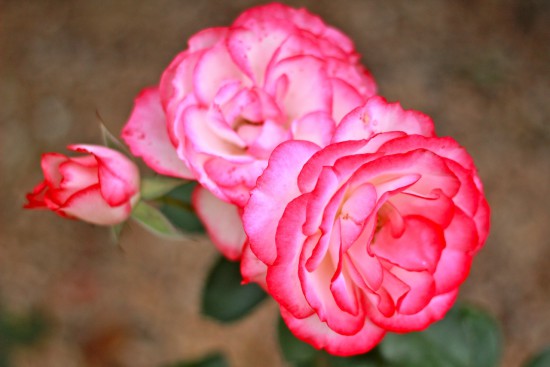 I visited Cala Comte with its beautiful views of the azul sea. Mucho amor!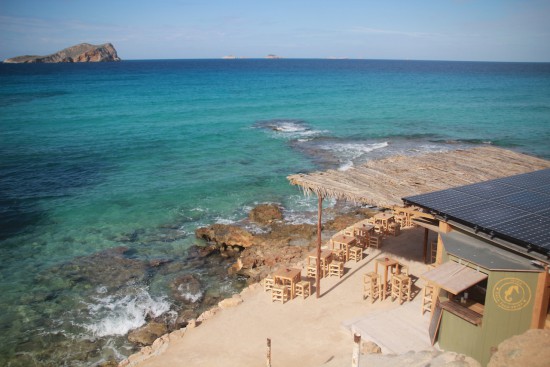 Es Cucons in Santa Agnes

Es Cucons has a restaurant with a modern Ibicencan cuisine, serving delicious lunch and dinner for it's hotel guests and non stay visitors. They grow their own vegetables and the other ingredients are sourced as much as possible on Ibiza. Gluten free ingredients have their own special corner at the breakfast buffet.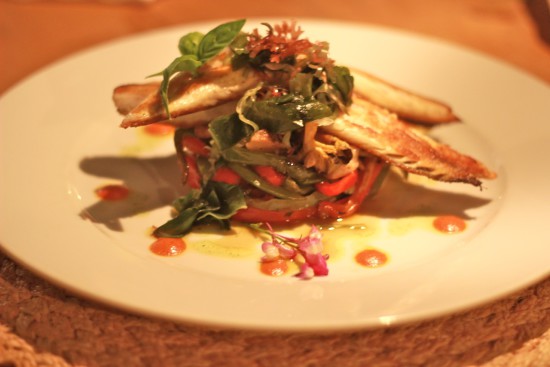 I ordered the seasonal salad with avocado, goat's cheese au gratin, pomegranate, tiger prawns, and citrus vinaigrette. It was accompanied by a glass of Ibizkus rosado. I immediately put the winery on my to-do list for my next trip! As a main I had the sea bass with noodles, sautéed vegetables, and wakame seaweed. I love it that chef Kike cooks with lots of crunchy, fresh vegetables.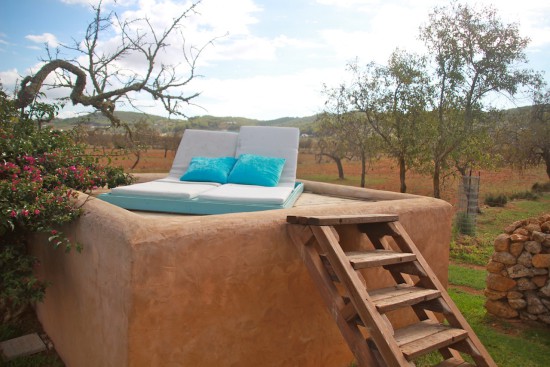 I had the pleasure of staying in the garden suite. You will be amazed by the amount of stars you see at night in this rural part of Ibiza.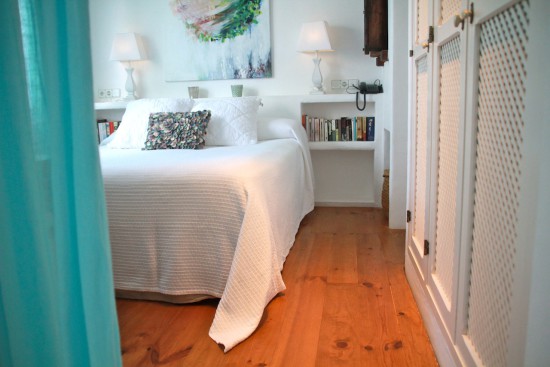 If you want to take some of the stylish interiors home with you, you are in luck: Es Cucons has a shop selling interior design furniture and clothes in Santa Gertrudis.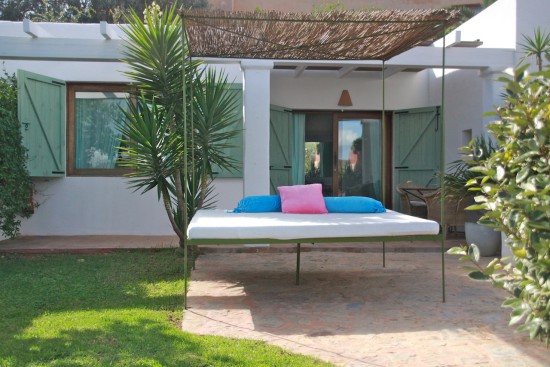 And did I mention the adorable cats?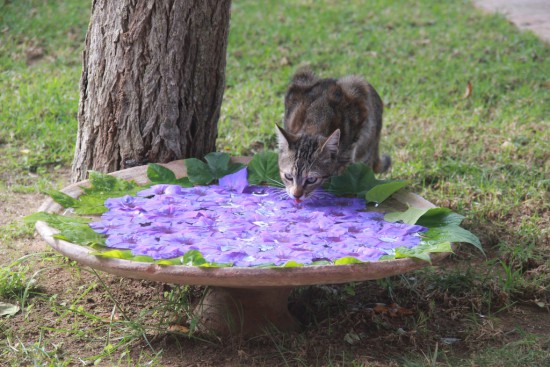 Gracias por todos to Jaime, Kike, Paula and Kees!
All Ibiza tips: restaurants, yoga retreat, hotels, agroturismo's, organic farm >>