Nothing is better (and tastier!) when you eat local products, as much as possible, when you travel. In Menorca, I ate 'queso de Mahon', lots of fish and seafood, local seasonal vegetables and I drank Menorcan wine, gin and 'hierbas de Menorca'. Typical dishes are 'oliagua' (soup, served hot or cold) and caldereta (lobster stew). Did you know that mayonnaise originated from Mahon? Check out my 9x Menorca restaurants serving local food.
Rias Baixas in Ferreries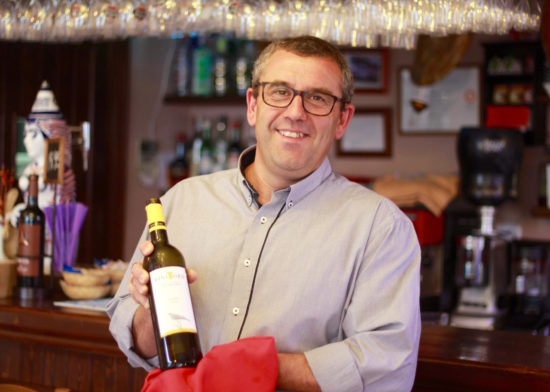 This restaurant was recommended for their fish dishes. Owner, Antonio, would love to introduce you to the authentic cuisine of Menorca.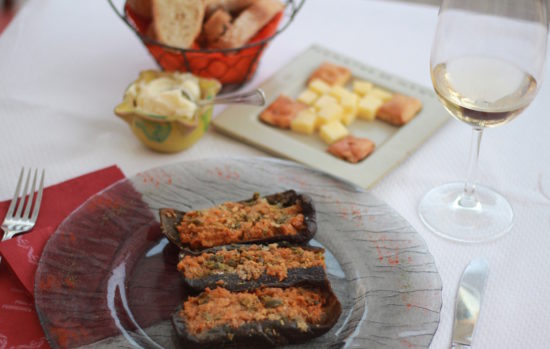 I started with a delicious vegetable dish made with eggplant, green peppers, bread, tomato, egg, and garlic. One of the best wines in Menorca for me is the 'Binitord'. This is made from the grapes of Chardonnay, Cabernet Sauvignon, Merlot, and Macabeu. The mussels are cooked in the oven with only olive oil. iDelicioso!
Cas Ferrer de sa font in Ciutadella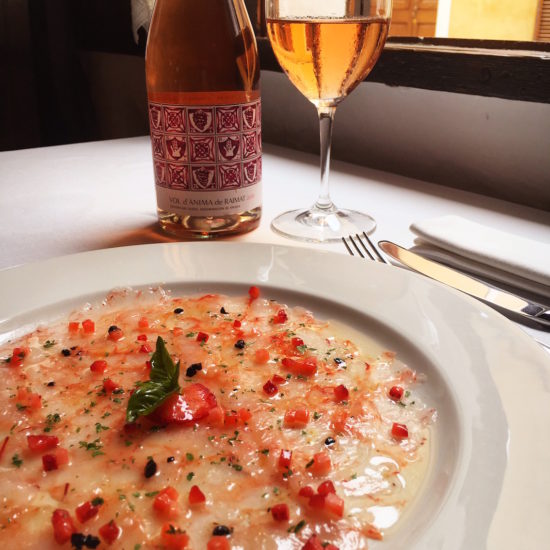 Shrimp carpaccio is fantastic! This a certified organic restaurant in Ciutadella, formerly the capital of Menorca. Still, there are as many people living in Ciutadella as in Mahon. In terms of the atmosphere these are two totally different places. Mahon's asset is the port, which brings an accessible atmosphere, whereas Ciutadella is a more stately place with old palaces.
Back at Cas Ferrer de sa font, almost everything here is organic and produced as locally as possible.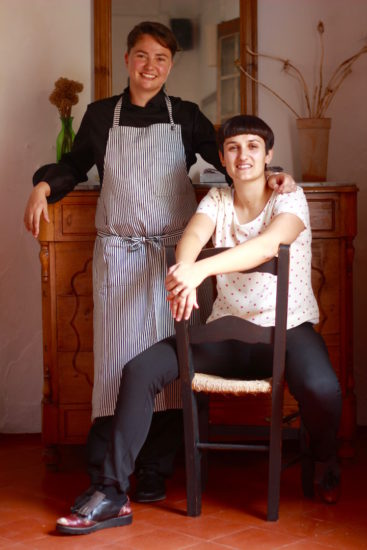 Emma and Bea (chief) returned to Menorca after a three-year stay in England.
Molí des Racó in Mercadal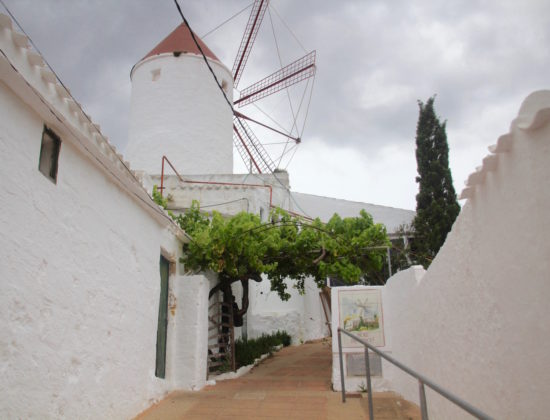 It's Sunday afternoon and I had lunch here. The restaurant is filled by Spanish (or should I say Catalan) families which turned it into a noisy scene.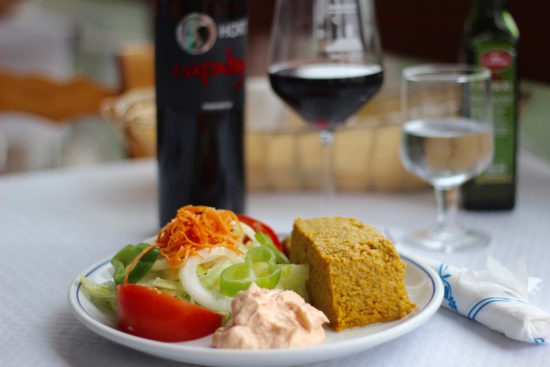 I ate a vegetable cake with salad and fish – the type the Menorcans like to eat at home – which include a casserole from the oven with potato, pepper, olive oil and skate according to the waiter.
Xiringuito Es Corb Mari in Son Bou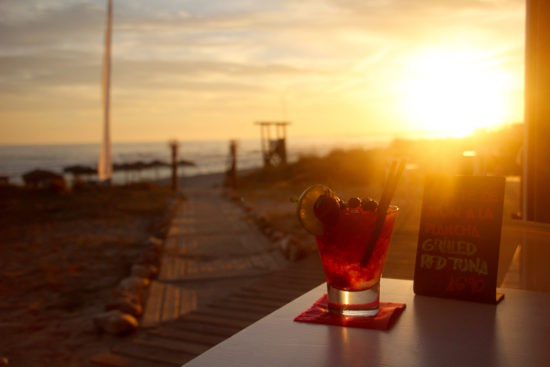 Enjoy a cocktail in your hand (made of blackberries from the surrounding dunes, local gin, and syrup) during sunset at a restaurant on the beach. In this Xiringuito (Catalan for the Spanish chiringuito, which sounds much more exotic and attractive than our 'beach restaurant'), the vegetables are grown without pesticides in the garden of the owner's father, Marino.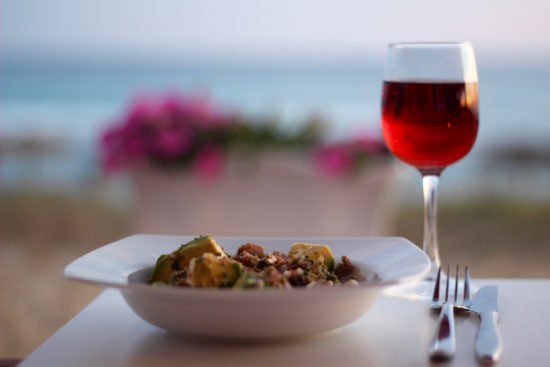 Food from the sea is especially nice on the beach, so I chose the ceviche of tuna with avocado. The secret of this dish? Buy the best tuna and grill it briefly (about 10 seconds) on each side. Add avocado, finely grated lemon zest (these unsprayed comes from their own garden), lime juice, chopped onion, toasted sesame seeds, soy sauce and chives.
Port Blue Hotel La Quinta
La Quinta is a five-star hotel *****. Wonderfully quiet, it is for adults only. Because I had some spare time, I worked for a few hours on the edge of the pool. Of course, I only start after a refreshing swim.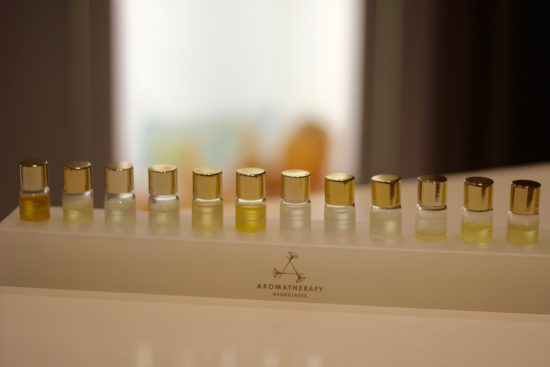 Ariana spoiled me with a relaxing massage at the luxury spa that only works with biological and natural resources. No testing on animals and everything is 100% vegan. First, they asked me what the purpose of my massage is. To relax even more and let go of stress. And we succeeded, pure indulgence. Disfruta del momento, enjoy the moment!
Then it's time for cooking. Check the YouTube-movie!
Chefs and Gregorio Santiago Panadera prepared tonight's Cap Roig, or scorpion fish. And a DIY dessert at the chocolate fountain.
Tapas at the fish market in Mahon
A visit to the mercat of pescados, the fish market, is definitely a must if you are in the capital of the island.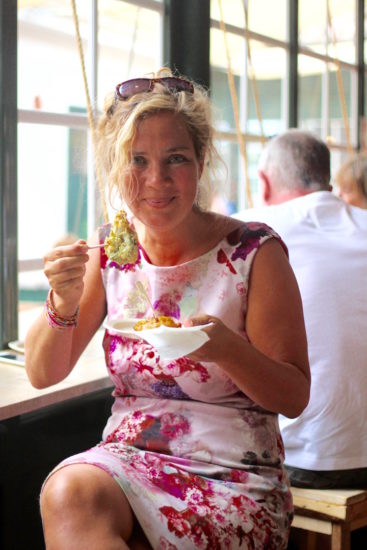 I tasted the croquetas es carola, vegetarian croquettes made of a kind of lettuce and one with cod.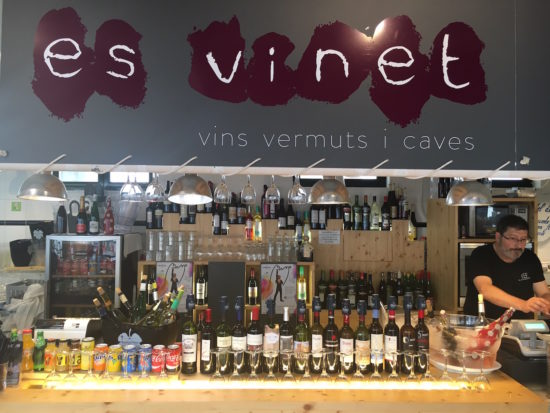 Oh, and there's also delicious vino blanco. This time it is from Penedes, the famous wine region near Barcelona where delicious cava is made.
Sa Pedrera des Pujol in Torret
Culinary delights to enjoy in Sa Pedrera restaurant with chef Daniel and his team.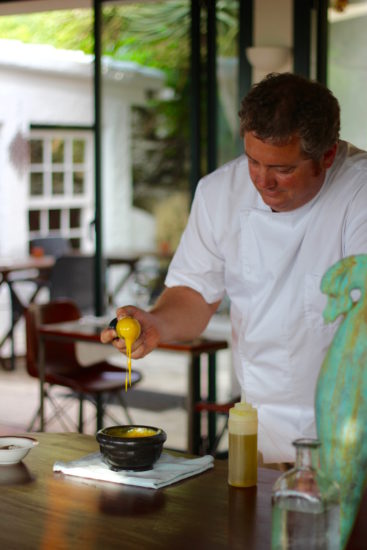 Chef Daniel demonstrated the preparation of mayonnaise, which originated from Mahon and was renamed the French mayonnaise.
Ingredients come from the island, as much as possible and are super fresh, like this salad with a light mousse of Mahon cheese. So fresh!
Accompanied by a wine from Menorca, which I had not tasted yet: Iamontanum, a wine with a hint of apricot, melon, lemon, honey, flowers, and herbs.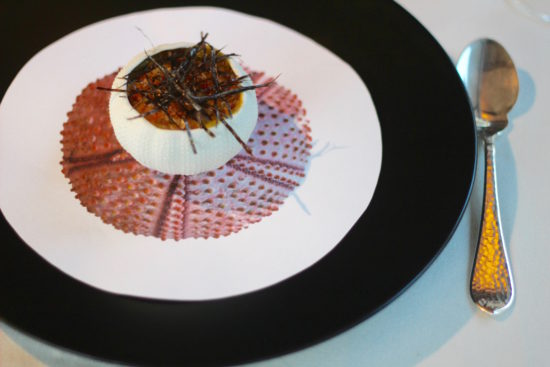 I can hardly say goodbye to the wonderful dinner with seven courses. Every time I am again tempted to taste a dish, and that's certainly not a punishment. Finally, the 'revolucion de quesos', with different textures … There it is again: Mahon cheese.
Can Bernat des Grau
After a delicious dinner at Sa Pedrera, I went to bed. The next morning my alarm clock rang at 5:15 pm. Before 6am, I was on a boat going for fishing along with Fisherman Lluis and Chef Richard of the Can Bernat des Grau restaurant.
Sustainable fishing – they take only the fishes that are large enough while the rest goes back into the sea. We caught a lobster and a stingray. At my request, they killed the stingray immediately because I don't like the idea of fish dying after some time because of lack of oxygen. This is why animal protection organizations have their doubts about sustainable seafood. Sustainable fishing only takes into account the fishing method, environmental and species conservation, but unfortunately not the animal welfare. The method of killing is not important.
Chef Richard doesn't eat meat, and fish only once a week. He goes fishing once a month, so he experiences first hand that the stock is going down dramatically in recent years. There are five boats that fish for his restaurant. He believes that it is important that they share the same philosophy.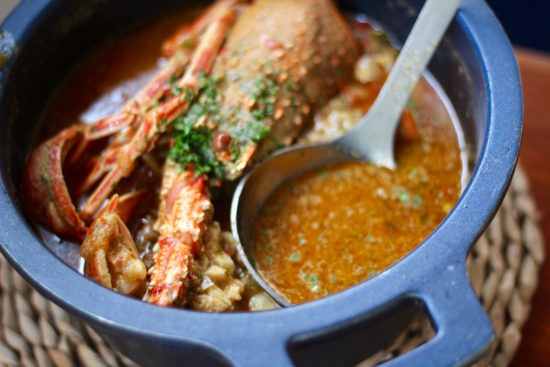 Then it was time to take a look behind the scenes and assist the chef in his kitchen. We prepared the caldereta together. And yes, it unfortunately also includes killing the lobster. Fortunately, the lobster was killed as soon as possible, in two seconds. If there is one method you shouldn't use to kill a lobster, it is to boil a lobster alive, but I suppose you hopefully already know that? After I personally saw it, I believe that there is no difference between eating fish and lobster, as they are both at least killed as quickly as possible.
What are the ingredients of the caldereta? First, olioagua is made with olive oil, onion, garlic, red and green peppers, tomatoes and water. Crunch almonds, garlic, parsley, salt and the intestines of the lobster. Not too fine! Add brandy and some dark chocolate. Add the lobster and cook for 15 minutes.
Clorofil-la in Mahon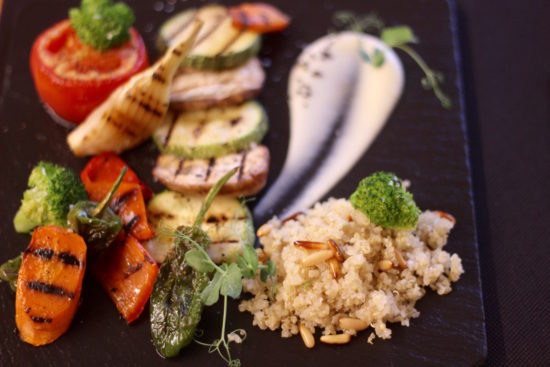 If you don't like to eat fish or lobster, this vegetarian restaurant probably is a better option. Clorofil La opened less than two months ago. At present this is the only vegetarian restaurant in Mahon. Esther, co-owner says they have their own vegetable garden where everything is organically grown.
The food is not only healthy and sustainably grown, it is also tasty to eat vegetarian and even vegan food after a week of fish and seafood.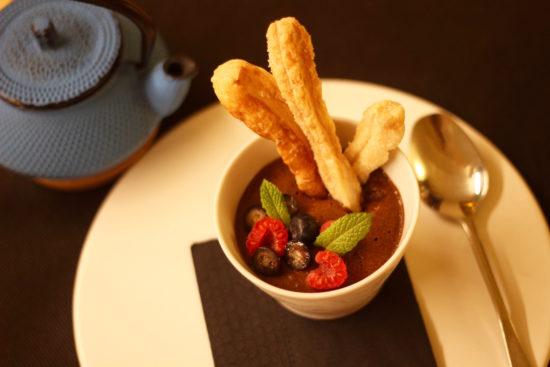 Last night's delicious chocolate mousse was a special treat.
The nice thing is that I ate at many different restaurants during my trip to Menorca. Don't ask me which restaurant was the best. Every place is unique. My answer depends on where you're most looking forward to:
Do you like to eat at the beach? Then Es Corb Mari is a must.
Prefer to eat veggie? Go to the newly opened La Clorofil in Mahon.
Do you enjoy culinary food? Be sure to visit Sa Pedrera for an unbeatable seven-course menu.
Try caldereta? I was there when the chef of Can Bernat des Grau caught the lobster, and I helped him that morning in his kitchen. Check how the chef prepares and kills the lobster.
Organic eating? Go to Cas Ferrer de sa font, because that is all organic. The choice is yours. Qué aproveche!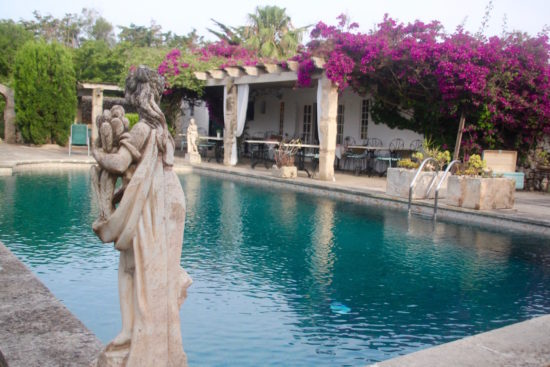 Check my tips on which lovely rural hotels to stay at in Menorca. >>
Do you prefer to read this in Dutch? Go to: 9x Menorca tips uit eten.